Restoring Pop Machines
All machines are completely disassembled, down to every nut and bolt.
All parts are sand blasted, inside and out. Sand blasting is a process that removes all rust from the surface. This process preps the machine for the body and paint work.
The machine is then primed, and ready for body work.
Body work is started, welding done if needed, or panel replaced if necessary.
Final primer is applied, seam sealed on inside of machine, ready to go to paint.
Professionally painted, clear coated and polished for a Show Quality finish.
Embossing and Decals are applied.
All insulation is placed in the interior of the main unit and door areas.
All Interior Bottle Racks and Shelves Will be Zinc Plated.
New rubber door gaskets.
Depending on the style of the machine, all chrome is re-plated if requested and polished.
New stainless steel screws and bolts.
Coin mechanisms are fully inspected and cleaned to insure that they are functioning like new or replaced with new if needed.
Refrigeration is completely inspected, and compressor is replaced if necessary, new fan motors, new wiring installed.
Standard decals will be placed on the machine and each customer gets to choose from a variety of dress-up decals. Additional decals are available upon request. (additional charge may apply).
Embossed lettering hand painted by a professional sign painter in place of decals available upon request (additional charge may apply).
Our customers will receive digital photos of the complete restoration - top to bottom. You get to view your machine through all stages of the process.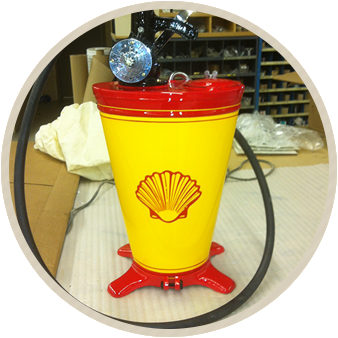 Client Testimonials
---

"Thank you again for such awesome (over the top) work. It is very rare a person gets this kind of treatment, and quality (in this day in age)."

"I would strongly recommend using Vanishing Vintage Vehicles for your car appraisal needs-quality reports & experienced appraisers to protect your automobile investment"
Larry Arnason, Calgary Mortgage Broker
---
We have been providing Gas Pump & Pop Machine Restoration
Services for Over 25 Years
servicing Calgary and the surrounding
communities in southern Alberta.
---